HEATING BUILDINGS IN INDUSTRY AND COMMERCIAL​
It is used in high rooms. It is perfect for local (spot) heating. Our models start at 5.7 and end at 42.8 kW. It is a heater with an open combustion chamber, in which the gas-air mixture is burned on the surface of the ceramic plate. The air needed for combustion is taken from the room, therefore the hall with ceramic heaters should be well ventilated (10 m3 / h per 10 kW of installed power). 
Ceramic gas radiators are used in such facilities as:
Industrial halls, workshops, factories, sheds

Churches, mosques

Sports halls, sports fields
It is a heating device with an open combustion chamber in which a gas-air mixture is burned on the surface of a ceramic plate. The air needed for combustion is taken from the room and the exhaust gases are discharged into it, therefore the room in which ceramic heaters are installed should be properly ventilated. The radiator's body is made of durable, corrosion-resistant materials, which ensures many years of failure-free operation even in conditions of increased air humidity.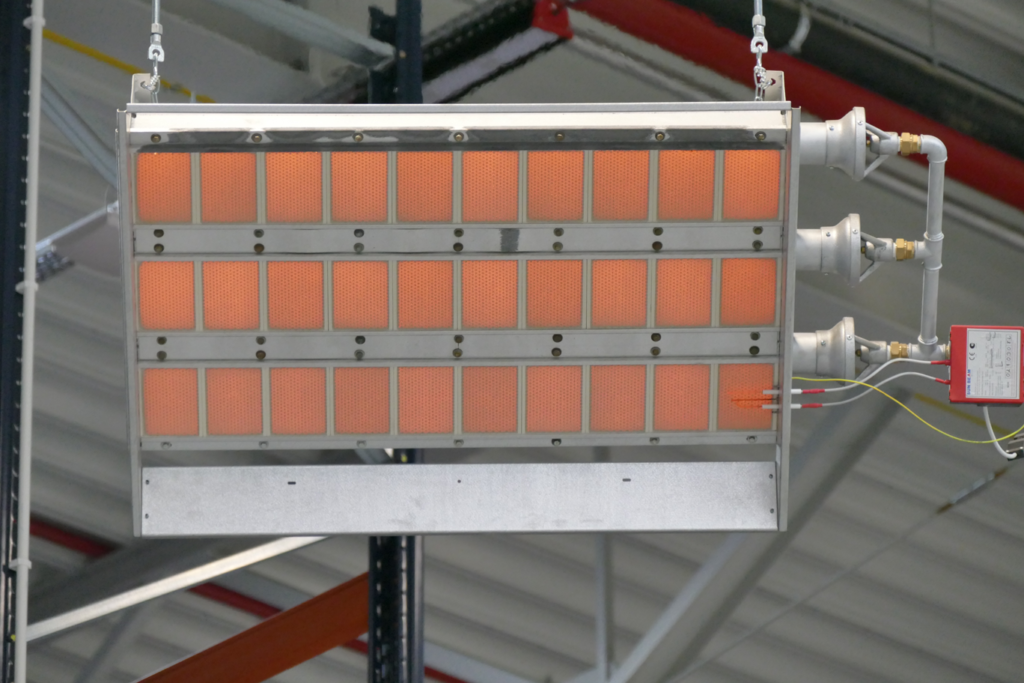 Advantages of radiant heating
Fast start-up times and an immediate heat effect allow for efficient use of gas and lower heating costs
It is provided by a solenoid valve together with an electronic controller that prevents uncontrolled gas leakage
Buildings can be partially heated in designated areas where people stay in a given period of time without the need to build partition walls
The radiator does not have any moving parts or fans, which does not cause additional movements of dust in the heated room
The radiators have been tested to ensure high quality and to guarantee their proper operation
Allow for flexible adjustment of the power of the radiators to current needs
TECHNOLOGICAL APPLICATION
Ceramic radiators are perfect for technological applications, e.g. for drying or heating materials in order to maintain their appropriate physical properties
AUTOMATIC ADJUSTMENT AND SIMPLE OPERATION
The heaters can be equipped with an automatic time-temperature controller that allows you to control the operation of the heaters in a weekly, day / night, winter / summer mode
LOW INVESTMENT AND EASY INSTALLATION
thanks to the fact that the flue gases from the radiator are discharged directly into the heated room, there is no need to install additional ventilation ducts, which reduces costs and shortens the installation time of ceramic radiators
The photo shows an example of heating an industrial factory with SBC ceramic gas heaters. By retrofitting the factory's heating with Sun Beam gas heaters, the facility user saves 70% per year on heating bills. The investment in a radiant heating system will pay for itself in this case within 3 years. Gas radiators are powered by natural gas and have the option of zone heating. This means that they can be turned off in part of the building and the rest can be heated.
The radiant heating system has the highest gas consumption at full load, which is only required a few days a year. Two-stage regulation allows you to adjust the power of the radiators to the current heating demand.
Moreover, the thermal comfort of the object is improved.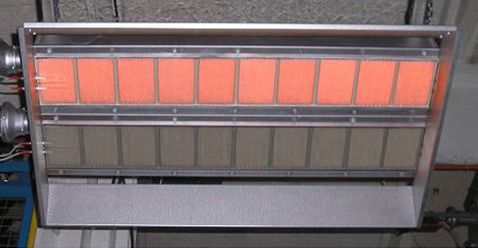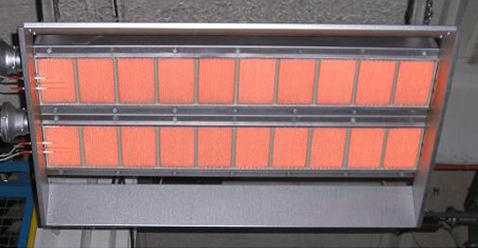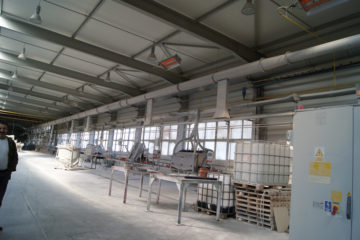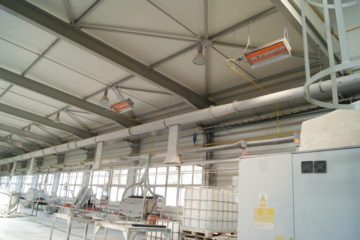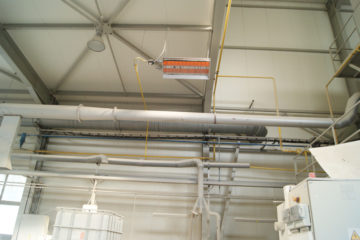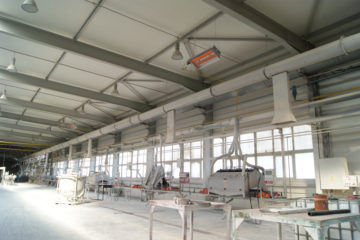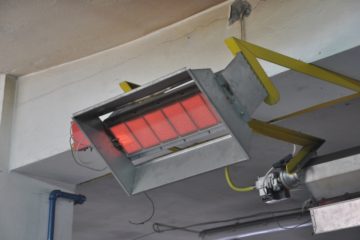 Technical data of ceramic gas heaters
| Model | 5.5 kW ceramic gas heater | 8,9kW ceramic gas heater | 11,7kW ceramic gas heater | 14,5kW ceramic gas heater | 17,4kW ceramic gas heater | 23,3kW ceramic gas heater | 29kW ceramic gas heater | 34,8kW ceramic gas heater | 43,2kW ceramic gas heater |
| --- | --- | --- | --- | --- | --- | --- | --- | --- | --- |
| Heated surface | 25-30 m2 | 35-45 m2 | 45-55 m2 | 55-65 m2 | 60-80 m2 | 80-100 m2 | 90-110 m2 | 100-120 m2 | 125-155 m2 |
| Number of tiles | 4 | 6 | 8 | 10 | 12 | 16 | 20 | 24 | 30 |
| Dimensions | | 865mm x 365mm x 255mm | 1050mm x 365mm x 255mm | 1240mm x 365mm x 255mm | 1420mm x 365mm x 255mm | 1790mm x 365mm x 255mm | 1330mm x 720mm x 255mm | 1420mm x 720mm x 255mm | |
| Gas type | Natural Gas and Propane – Butane | Natural Gas and Propane – Butane | Natural Gas and Propane – Butane | Natural Gas and Propane – Butane | Natural Gas and Propane – Butane | Natural Gas and Propane – Butane | Natural Gas and Propane – Butane | Natural Gas and Propane – Butane | Natural Gas and Propane – Butane |
| Nominal power | 5,5 kW | 8,9 kW | 11,7 kw | 14,5 kW | 17,4 kW | 23,3 kW | 29 kW | 34,8 kW | 43,2 kW |
| Gas consumption | 0,58 m3/h I 0,43 kg/h | 0,94 m3/h I 0,69 kg/h | 1,24 m3/h I 0,93 kg/h | 1,53 m3/h I 1,14 kg/h | 1,84 m3/h I 1,36 kg/h | 2,64 m3/h I 1,82 kg/h | 3,07 m3/h I 2,27 kg/h | 3,68 m3/h I 2,72 kg/h | 4,57 m3/h I 3,38 kg/h |
| Gas working pressure | 17 mbar I 37 mbar | 17 mbar I 37 mbar | 17 mbar I 37 mbar | 17 mbar I 37 mbar | 17 mbar I 37 mbar | 17 mbar I 37 mbar | 17 mbar I 37 mbar | 17 mbar I 37 mbar | 17 mbar I 37 mbar |
| Weight [kg] | 8 | 11 | 13 | 15 | 17 | 21 | 29 | 32 | 43 |
| Gas connection | 1/2 " | 1/2 " | 1/2 " | 1/2 " | 1/2 " | 1/2 " | 1/2 " | 1/2 " | 1/2 " |
| Power | 230 V I 50 Hz I 25 VA | 230 V I 50 Hz I 25 VA | 230 V I 50 Hz I 25 VA | 230 V I 50 Hz I 25 VA | 230 V I 50 Hz I 25 VA | 230 V I 50 Hz I 25 VA | 230 V I 50 Hz I 25 VA | 230 V I 50 Hz I 25 VA | 230 V I 50 Hz I 25 VA |