HEATING BUILDINGS IN INDUSTRY AND COMMERCIAL​
Is a modern device designed for heating industrial, commercial and service facilities, warehouses, sports halls and churches, which will allow you to significantly reduce the costs of heating the facility.
Tubular heaters allow for immediate heat generation. The outer surface of the pipe heats up to a temperature of 360°C and emits heat using infrared rays, which, thanks to the installed reflector, are directed to the hall floor. In this way, we use 100% of the heat that is felt in the lower, and therefore developed and used, zones of the building.
The stainless steel pipes used in our radiators increase the durability of our products.
Tubular gas heaters directly heat people, animals and objects without the need to heat the air. This allows for lowering the air temperature and maintaining high thermal comfort. Each degree of difference between the perceived temperature and the air temperature gives a 7% saving in relation to convection heating.
Tubular infrared heaters are the optimal use of energy, the possibility of heating selected zones without the need to build partition walls, full thermal comfort and natural environmental conditions.
Gas tube heaters stand for durability and quality:
Double U or I radiating tube made of stainless steel, covered with black heat-resistant paint.

The internal combustion chamber made of special stainless steel, resistant to high temperature, protects the source components from overheating

Outer hermetic cover made of enriched stainless steel

Electric fume exhaust fan, coated with thermoplastic paint resistant to heat and high pressure, with class H coil, with self-lubricating high temperature bearing.

 

Equipped with an external overload protection switch.

Stainless steel mirror screens that reflect the thermal radiation downwards.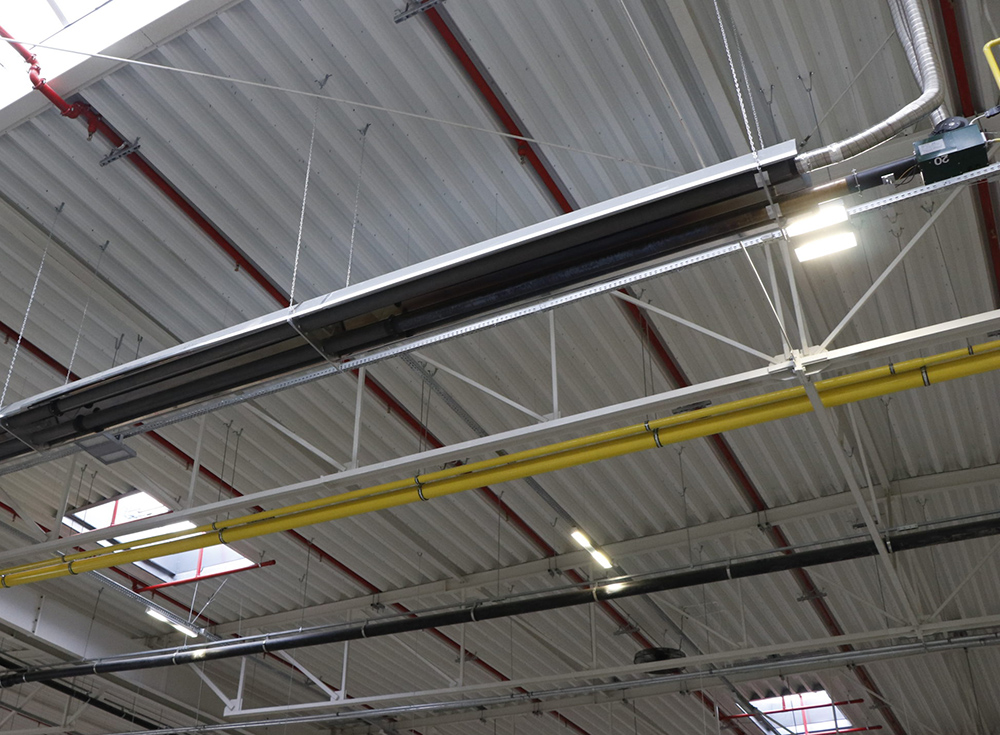 Gas tube heaters mean safety:
Double solenoid gas valve, equipped with slow-start devices and elements of the control and monitoring unit, capacity control device, pressure stabilizer and filter

Brackets with bolts made of thick steel, separated into two parts for easy placement of the device

Micrometric air plug to control the power and high efficiency of the combustion chamber

Special mechanisms with a thermostat to regulate the temperature at the source.

 

Perfect for applications such as car workshops, body shops, carpentry workshops

The control cabinet allows for automatic air temperature regulation and enables the control of the device's operating time
Is an ideal solution for controlling the operation of our radiators. Its test advantage is the flexibility of the structure and the low investment cost. It allows you to control the working time in the "day / night" mode and with a thermostat. allows you to connect any number of radiators in a zone.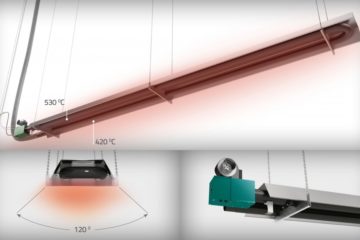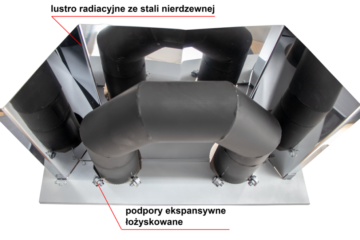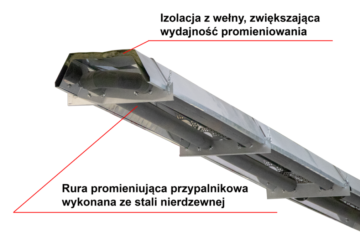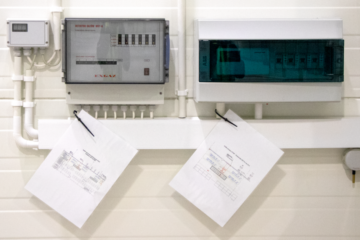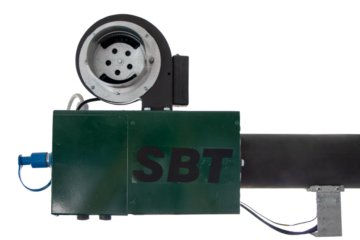 Technical data of tube gas heaters
| Model | | SBT 6U / 12I | SBT 9U / 12U / 18I |
| --- | --- | --- | --- |
| Nominal power | kW | 30 | 45 |
| Electric supply | V/Hz | 230/50 | 230/50 |
| Maximum electricity consumption | W | 83 | 83 |
| Gas connection | inches | 3/4″ | 3/4″ |
| Connection of the flue gas pipe | mm | 100 | 100 |
| Connecting the air intake pipe | mm | 100 | 100 |
| Weight in standard version | kg | 104 / 102 | 148 / 192 / 147 |
| Natural gas consumption – G20 (2.0 kPa) | m³/h | 3,15 | 4,73 |
| Propane-butane consumption – I3P (3.7 kPa) | kg/h | 2,21 | 3,79 |
| Nozzle pressure (natural gas – G20) | mbar | 17 | 17 |
| Nozzle pressure (propane-butane – I3P) | mbar | 35 | 35 |
| Nozzle diameter (natural gas – G20) | mm | 4,2 | 4,8 |
| Nozzle diameter (propane-butane – I3P) | mm | 2,8 | 3,7 |
| Protection class | | IP 40 | IP 40 |