HEATERS AND GAS RADIATORS
Gas heater for AGRH asphalt repair
is a completely new, efficient and cheap solution not only for specialized road repair companies – also (thanks to its small size and ease of use) for individual customers who wish to reconstruct even small surface defects.
The radiator is intended for minor repairs of roads, bays, driveways and squares.
The AGRH heater consists of a chassis that allows for free movement of the machine and a gas burner that emits infrared light.
it is obtained by burning gas on the surface of a special material and is transmitted in the form of an electromagnetic wave that heats a specific surface of the asphalt.
Infrared asphalt heating is used to directly plasticize the asphalt surface, bringing with it many advantages over time-consuming and unstable traditional solutions. 
When using the AGRH radiator for repairs, no cuts are created that accumulate stress in the binding layer of the road – which in turn causes cracking and further degradation of the pavement. This is a significant advantage – especially in the case of viaducts and bridges.
The lack of direct contact of the flame with the asphalt allows the heat to penetrate into the asphalt without burning its surface. The asphalt heated by this method can be recycled. 
A special valve with a thermostat controls the temperature to which the asphalt is heated. Depending on the composition of the asphalt mix, the temperature and heating time are adjusted by the user.
The heater is a self-sufficient device, adapted to be supplied with propane-butane or propane gas from a 11 kg cylinder. It does not require additional power sources.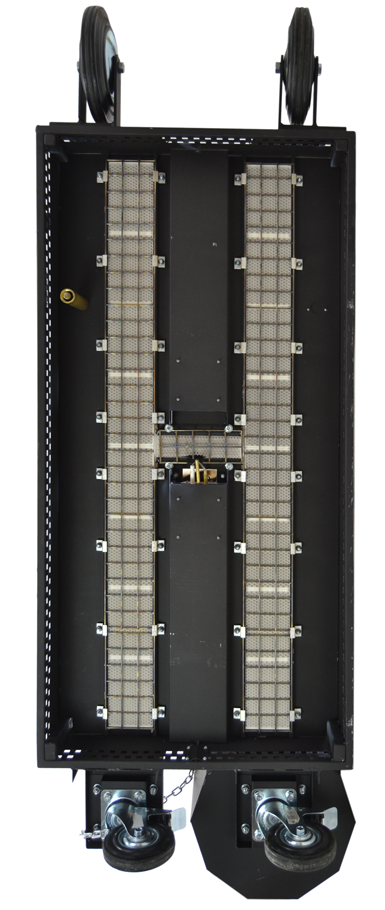 Advantages of the AGRH asphalt gas heater
SPEED IN CARRYING OUT REPAIRS
NO NEED TO USE ADDITIONAL TOOLS
ONLY THE DAMAGED PLACE CAN BE REPAIRED
THE "PATCH" IS PRESSED INTO THE SURFACE AND FORMS ONE MONOLITH
A PIEZOELECTRIC IGNITER IS USED FOR IGNITION
IT IS NOT NECESSARY TO CLOSE THE ROAD LANE FOR A LONG PERIOD
The use of our company's device – during renovation – limits the use of the road only in a small area
Gas type:

 

 Propane-Butane

Nominal power:

 

 25kW

Gas consumption:

 

 1.7 kg / h

Gas working pressure:

 

 37 mbar

Weight:

 

 55 kg, weight for shipping 70 kg

Dimensions [height / width / depth]:

 

 900mm / 590mm / 1650mm
Thanks to our radiator, you can fill in cavities in the pavement at sewage wells, tracks, drainage or expansion joints on viaducts and bridges.
It can also be used to dry the surface before carrying out work requiring dry asphalt.
It can also be used for the installation of thermoplastic road markings.